This is just a quick tech note on Windows 7 Screen behavior and the new feature in which the screen maximizes when you drag it partially off the screen.
I have been using Windows 7 for about 6 months now and am relatively pleased with its stability and features.  However, there are some odd behaviors and one of those, to me, is how the Windows screen maximizes when I drag it partially off the screen.
As you may know,  I rarely write about minutia such as this but the solution was not readily obvious so I thought that I would share it just in case anybody else is annoyed by this new little nuance.
This is a problem for me, especially on my laptop, because I have to have several screens open at one time.  When I move a window  partially off the screen, I am doing it intentionally–I want it to be there.
And so, for those who want to know how to turn off screen maximization when you drag your window partially off the screen, I will tell you where to make these changes.  Go to Control Panel | Ease of Access Center (someone starts talking to you here) | Make the Mouse Easier to Use.
Once there, select the "Prevent Windows from being automatically arranged when moved to the edge of the screen" checkbox as you see in the picture below: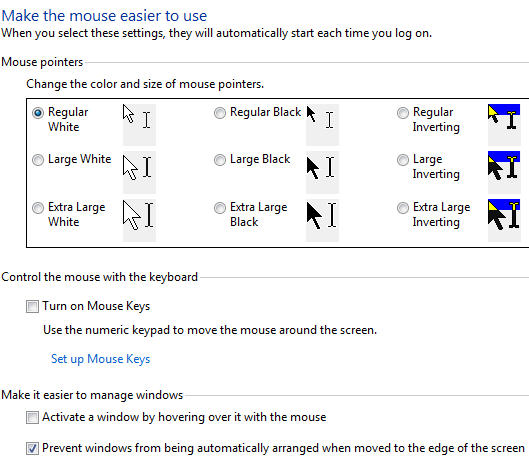 As you can see, the solution is not entirely intuitive. I found myself right-clicking the screen and going through my desktop properties as I may have done in Windows XP.
Now in Windows 7, apparently, many solutions can be found in odd places like "Ease of Access" which, ironically enough, made finding the solution much more difficult.