If you want to create a web page that will generate traffic, you need to do so using popular keyword search terms.  However, the more "popular" that a keyword is, the more keyword competition you are going to have.  In this article, we will take a look at how you can analyze the competition for a keyword and whether it is worth the effort to try to place for that keyword.
Extreme Keyword Competition: Beginner Mistakes
With much excitement, my friend Jim decided he wanted to make a living online. Jim is a driven marketing executive who is fairly computer savvy. His desire to make a living online was spawned by several "feature articles" about people who had succeeded online. Ironically, the very industry that Jim practices–marketing–had lured him in with prospects of online gold.
Jim approached me with his idea. After hearing that you need to find heavily searched for terms and then create inbound, keyword rich links, Jim decided that he would focus his efforts on selling LCD TVs. He would become an Amazon Affiliate and sell hundreds of thousands of LCD TVs.
With great excitement, Jim brought up the Google AdWords Keyword Tool showing me just how many people search for LCD TVs. "Look," he said with the child-like enthusiasm, "there are millions of searches for this term every month." We looked at this picture on his screen:
Like many people who are first exposed to the idea of earning money online, Jim saw lots of $$$. What he did not see was the keyword competition!
Examining the Competition
The idea is a good one. Get to the number one spot in Google for a high-paying keyword like LCD TV and make lots of money. As you see in the diagram below, AdWords advertisers pay large sums for the keyword LCD TV.

Beyond advertising, you can also sell LCD TVs directly or through an affiliate program like the Amazon affiliate program. We can reasonably conclude that being #1 for the term LCD in Google will easily be earning you 6 figures EACH MONTH. Thus, this term has massive competition. How much?
Keyword Competition: Free Tools
There are many tools that we can use to determine how much competition that we have for a keyword. I use the tool called SEO Elite because it has everything in one place but there are also good free tools to get the job done. So, for the purposes of this exercise, let's use the freebies.
My Facebook addicted friends like to joke: "If you're not on Facebook, then you really don't exist." In a similar vein, we can say that if you are not in the top 10 Google results for a keyword, you really don't exist. In fact, in an insightful article called What is a #1 Google Ranking Worth?, we find that even being in the top 10 might not be sufficient. Based on solid statistical data, the article claims:
A #1 spot is worth 8.5 times what #5 is.
Then how much is #10 really worth?
So, when first evaluating competition, I like to take a good look at the top 10 Google results for a particular term. In my book, the easiest way to do this is with the Keyword Analyzer at a site called IPMANGO.com.
When we put in the term LCD TV, you can see how bleak the situation is in the photo below: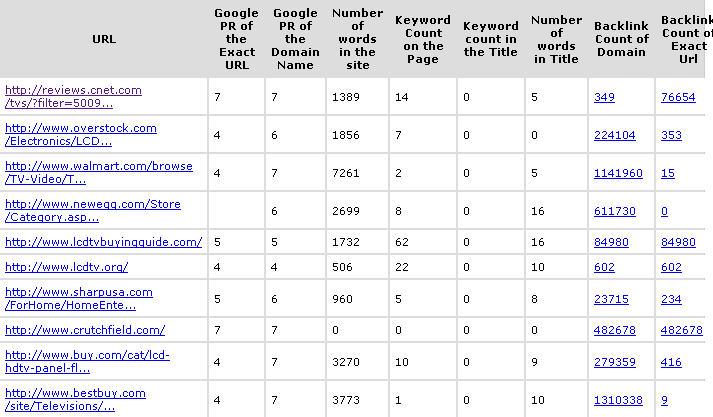 Truthfully, the situation for my friend Jim is not only bleak…it's impossible. As we can see, none of the pages in question have a page rank below 4. This would take 2 years or more for Jim to obtain. On top of that, the home page for most of these domains have even higher page ranks with hundreds of thousands of in-bound links. (Note: We do see a few anomalies in these results but this is common with with these sort of programs. )
Is This Keyword Simply Too Competitive
I love enthusiasm and certainly did not want to temper Jim's. At the same time though, I did not want my friend spending years and achieving nothing.
He asked, "Should I give up on the idea of LCD TVs?"
"Not exactly," I responded, "You need to look for good long-tail keywords if you want to compete in this arena."
With that, I pointed Jim to the free version of Wordtracker where we find heavily searched long tail keywords (long search terms) that aren't near as competitive.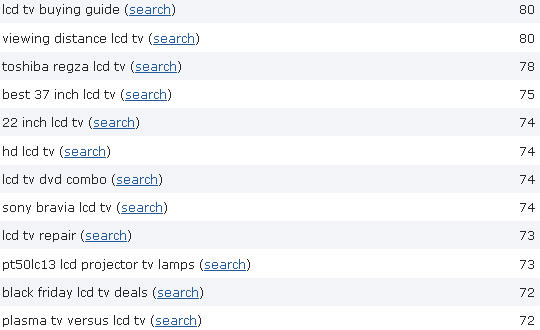 Let's take a look at the term "19 inch lcd tv with dvd". If you put this in the Keyword Analyzer, you can see that the competition is much less and that you may be able to place within the top 10 on Google for this term because the competition is much less. In fact, I would bet that few of them actually have any in-bound anchor text link using that exact search term.
Keyword Competitive Analysis: Anchor Text
As you can read about in the article entitled SEO: The Seven Deadly Sins, the popularity of your page given a certain search term is not only based on the number and quality of the inbound links, but in great measure on the anchor text used for that inbound link. In fact, there are those in the SEO community who feel that solid anchor text link within incoming links will bring you straight to the top for that keyword or phrase.
But how do you evaluate the anchor text of the competition? Well, if you do not want to purchase SEO Elite, there is a tool I often use that will get the job done for you called the Backlink Watch. Let's have a look.
Last week, I wrote a post called "Ranking Your Name in Google" which highlights my strategy for getting into the top 10 in Google for my name: Richard Cummings. As I mentioned, I probably would not be able to get to #1 because there happens to be an another important author with my same name. When we use Backlink Watch to view the anchor text for the inbound links to the #1 Google result for Richard Cummings, we see the following: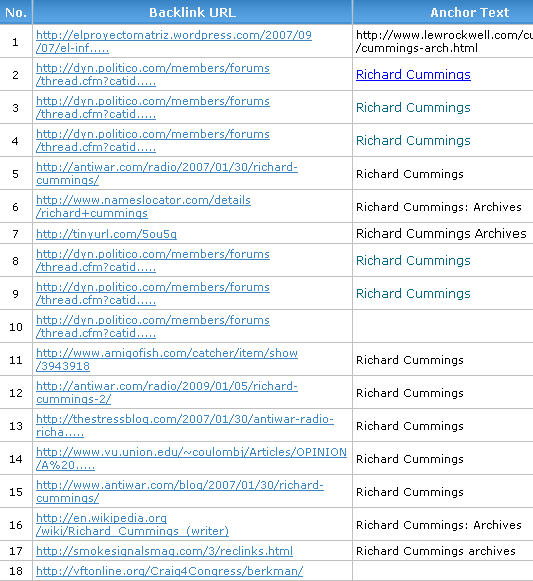 Do you notice that most of the inbound links use an anchor of Richard Cummings or some variation of that? And, this site has a PageRank of 4.
Thus, achieving #1 for the name Richard Cummings will be a difficult task. However, let's look at spot #6, a site called RickPhoto. RickPhoto is run by a photographer named Richard, or Rick, Cummings. Rick has a home page ranking of 3, but does not have good on-page SEO…his home page does not even have a title. Using the BackLink Watcher, we can see that he has many incoming links for Richard Cummings Photography but most of them come from just one site. With a little work, RickPhoto would be tough to beat, but right now time is all that it would take.
Keyword Competitive Analysis: Summary
In this article, I have reviewed with you the free technical tools that you can use to determine if you have the ability to compete for a given keyword. Remember, there are simply two tenets to achieve a high-ranking for a specific keyword:
1. Create a well-written page using a few select keywords and ensure that the page has solid on page SEO (OPSEO) with the use of proper titles and tagging.
2. Create inbound links to that page using the few select keywords as anchor text.
If you cannot get to the top ten in Google for your chosen keywords, it is simply a matter of the competition having performed the two steps above for more time than you, resulting in more links with better anchor text from better pages.
Should this discourage you? Absolutely not!
In the short term, you can be successful with long tail keywords.
And in the long term–you have to be involved for the long haul–time will reward you. A few years hence, your keyword competitors will be looking at you thinking…I just can't compete…