In this Chitika Review, we will take a look at how Chitika works, the results Chitika achieves, and why it is a viable alternative to AdSense.
AdSense Alternatives: Why?
About three months ago, I decided to give other advertising programs a try as alternatives to AdSense. I did this because I had some sites that I was interested in monetizing but I did not want to include those sites in my AdSense pool.
There are many reasons that people consider AdSense alternatives. For some, they may have run into difficulty with their AdSense accounts with Google closing their account for legitimate or incomprehensible reasons (there are people who claim that their AdSense account was closed for "no reason at all".) Others simply do not want to dilute their AdSense sites and they choose to branch out and consider other AdSense Alternatives.
Why I Chose Chitika As An AdSense Alternative
After much research, my choice for an AdSense alternative was Chitika. I thought that their ads looked professional and I liked the choices available to me. But, most importantly, I liked their new and future strategy. Let's look at how Chitika approaches PPC advertising and how they compare to Google AdSense.
Chitika has launched a new premium service aptly called Chitika | Premium for Publishers. I like many things about this including their initial description:
"Make sure your SEO'd site is cashing in on that search engine traffic with Chitika | Premium, the world's premiere search targeted advertising solution!"
Firstly, I like that Chitika says "Make sure your SEO'd site is cashing in on that search engine traffic…" While Google sometimes seems to frown on SEO, Chitika is telling us to Go For It; Make money on that well optimized site! Most importantly though, Chitika's new premium system works! I know because I have seen the results!
How Chitika Works
Chitika provides ads to visitors based on their exact search term. This is extremely important and something that Google does not do. While Google provides ads based on the content of the page, Chitika provides ads initiated by the search terms used.
Which do you think is going to provide better results?
Here is a sample of how a Chitika Ad looks when one searches for Magic Tricks: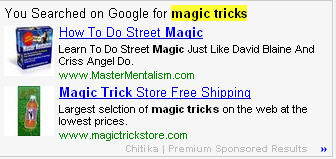 You can visit Chitika and play around with the results it would provide based on various search terms. There is a also a video that will show you the exact results of a sample search.
Do you notice anything else significant about the Chitika Ad above? If you're familiar with Google AdSense policies, you do. There is an image next to the ad! While Google AdSense strictly forbids this, Chitika endorses and implements it. Why? Simple–people click on advertisements with images. This seems like a no-brainer to me. Chitika has it. Google AdSense does not!
Will AdSense Become Chitika-Esque?
The evolution of the Chitika strategy is interesting. Of course, Chitika acknowledges, and we all assume, that Google AdSense is the only way to go. In fact, Chitika often refers to their solution as Google-esque.
However, one can argue that Chitika's new premium strategy leads Google's AdSense technology. As I wrote about in the article entitled AdSense New Interest-Based Advertising, Google is slowly changing their AdSense model from contextual to interest-based, which tracks the users Internet behaviors and provides ads accordingly.
We could legitimately ask: What is more interest-based than what the user is searching on at that very moment? Might we be saying in the future that Google AdSense is Chitika-esque?
Show Me the Money
The real question that publishers, and advertisers, need ask is this: Which service, Chitika or AdSense, provides the most return on my investment?
I can only speak as a publisher of these two services. In a three-month period of testing, Chitika and AdSense have achieved nearly similar returns, both with click-thru rates and earnings.
Thus, Chitika is certainly a viable alternative to AdSense.
Chitika and AdSense Together
The beauty of this debate is that you do not even need to decide. Chitika can be used alongside AdSense.
AdSense policies state that you cannot implement any form of contextual ads or ads that look too similar to AdSense. Chitika is neither of these. Their ads are not contextual; they are search-based. (Ironically, they use Google's search engine to achieve their success.) And, they do not look like Google Ads so you will not have a problem with this either.
So, what happens when the traffic does not come from a search engine but from a direct link? In this case, you have three options.
1) Collapse Into Nothing: This does not sound like it makes a lot of sense initially, but it is actually quite clever. By choosing collapse into nothing, you reward your frequent visitors who come via direct links. They will not see an ad that they probably would not have clicked on anyway.
2) Show a Different Ad (such as AdSense): This allows you to take advantage of AdSense and Chitika at the same time in the same space on your webpage.
3) Show Chitika Backfill: This will show standard, non-targeted Chitika ads.
Chitika Review: A Summary of a Great AdSense Alternative
I began experimenting with Chitika as an AdSense alternative. Frankly, perhaps like you, I thought that it would not measure up to Google AdSense on any front.
But I was wrong.
Chitika is a very professional company that implements an advertising model that equals if not exceeds that of AdSense.
But, for publishers, the most important question is: Will I make as much money? Based on my experiments, the answer is yes!